Roads by County
Adair County has always made liberal appropriations for its earth roads, their permanent improvement and maintenance, having inaugurated that move as early as 1903, and these being generously supplemented by private subscriptions, the county has been foremost in affording ample provision in the matter of transportation for its people and traffic for the products of the field and farm.
Audrain County has boasted one of the leading advantages offered by any county in its transportation facilities, and justly so, even to its efforts of today.
Mexico, its county seat, around which her interests center and from which her roads radiate, is on the north Missouri Cross-State Highway and her people are alive to the great advantages of the good roads agitation. This cross-state highway is identical with the Central Cross State Highway, or "Old Trails Route" of the Ocean to Ocean Highway from St. Louis until it reaches New Florence, in Montgomery County. At this point it bears to the northward and goes through Montgomery, Wellsville, Martinsburg, Mexico, two miles north of Centralia, Sturgeon, Clark, Moberly, Huntsville, Salisbury, Keytesville and Brunswick, where it leaves northeast Missouri, continuing on by Carrollton, Richmond, Excelsior Springs and Liberty to Kansas City. At Renick this road has a diverging branch by way of Higbee to Glasgow, where it crosses the Missouri River.
While there are no "old trails," so to speak, in this county, there are really old roads that we feel deserve mention, having been established by special acts of the legislature in our earlier history: The old Hannibal and Mexico; the old Louisiana and Mexico; the old Mexico and Danville, and probably others of less importance, all tending, however, to interlace the county with a network of good earth roads.
This county has also largely adopted the eight mile-square road district plan, from which it will reap immeasurable benefit.
Boone County is on the Ocean to Ocean Highway, the Old Trails Road and that has naturally created a great interest in road matters, resulting already in a $120,000 bond issue for rock roads, $100,000 for the Columbia district and $20,000 for the Harg district.
The roads of the county are mostly earth roads at this time, but are as well maintained as any roads of that character and in this climate, which is unfortunately anti-good roads on account of the frequent freezing and thawing. As early as 1853 a plank road was built from the Missouri River landing at Providence to Columbia, where carriages met the students for the University, showing that the road improvement spirit prevailed there over half a century ago.
However, there are now six gravel roads leading out of Columbia, the pride of the county and the state.
One runs west from Columbia to Rocheport, fourteen miles; one southeast to Ashland, fifteen miles; one east to the county line, ten miles; one northwest to Hinton, nine miles; one north to Oakland church, six miles; and one northeastwardly six miles. Besides these two others are contemplated and surveyed and will be built ere this volume is at all dust-worn, one for a distance of five miles southwest and the other northeast for a distance of four and one-half miles.
Callaway County is also on the Ocean to Ocean Highway and the ''Old Trails Road'' across the central part of the state and has paid particular attention to the formation of special road districts, having formed and bonded such a district around Fulton, its county seat for $105,000 for rock roads. The Boon's Lick road passes through Williamsburg, Calwood, Fulton and Millersburg in this county. There is "also a road that crosses the county north and south from North Jefferson, by way of Fulton, on to the northward through Mexico, following the general direction of the Chicago & Alton railroad.
Chariton County shows the interest of her people in the good roads move that is attracting the attention of all progressive sections throughout the United States by having spent more on her roads in the twelve months of 1911 than they had spent in the twelve years prior to this.
The oldest road probably in this county is a road that was located shortly after Old Chariton was laid out in 1817 and ran to Keytesville and was known as the "Keytesville road," Keytesville, the county seat, being laid out in 1832. This road crossed the east fork of the Chariton River and the Muscle fork three miles from Keytesville, is now graded and is still kept in fine repair. From Keytesville it crosses the Palmer creek and continues to Brunswick.
Another old road runs from Keytesville to Salisbury, thence in a northeastwardly direction crossing the Middle fork at Switz's mill, thence to Roanoke and on through Randolph County.
Another main road runs into Chariton County from Huntsville, Randolph County. This road was graded and put in good condition in 1905 and is kept in that condition all the year, as near as weather conditions will permit'. The bridges are kept well painted and the culverts are constantly looked after. A grader, scraper and dragging system is well maintained in the county and her roads are made attractive to the traveler and tourist.
Another old road that had its objective point in this county was a road surveyed in 1823 and the early part of 1824 by Major A. S. Langham, for the three commissioners, William Haines, Col. N. S. Burkhartt and James Logan. It started at the iron banks on the Mississippi River and ran through Benton, Cape Girardeau, Jackson and Jefferson City to Columbia and on to Fayette and Chariton on the Missouri River, a distance of three hundred miles.
Chariton is also crossed by the northern Cross-State Highway, which enters it near Clifton Hill, from Randolph County, and crosses the county from east to west, passing through Salisbury, Keytesville, Dalton and Brunswick, on thence to Kansas City.
Clark County is the terminus of the Salt River road from St. Charles to the Des Moines River located in 1823 and elsewhere mentioned, but has no other old "trail" or road about which any information has been obtainable, other than those of local importance. The most prominent among those is the old "Alexandria and Bloomfield wagon road," or "main divide." This road started at the mouth of the Des Moines River, at Alexandria, and continued northwest through Bloomfield and on to Des Moines. Prior to the coming of the railroads it was used as a freight road and stockmen drove their cattle and hogs over it to the Mississippi River for shipment to St. Louis. It was also used as a mail and express route in an early day.
Howard County being the terminus of the Boon's Lick road and the beginning of the Santa Fe trail, and the location of the entire length of Missouri avenue, all three being fully described in the preface of the portion of the chapter given up to roadways, is probably possessed of more historic road interest than any county in Northeast Missouri.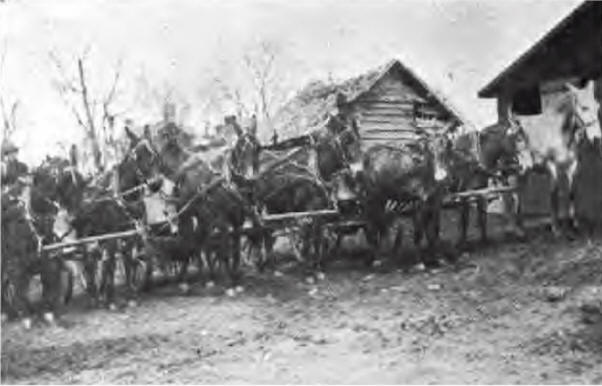 Ready to Make Roads in Columbia Special District
The three historic roads above referred to will be dismissed with only this reference, further than to say that the Boon 's Lick road enters the county as it crosses the Moniteau creek at Rocheport and runs through the north edge of the present town of New Franklin and on west by way of Clark's chapel to the Boon's Lick Springs a few miles east of the Missouri River near Arrow Rock, where in all likelihood a branch of the Santa Fe Trail crossed the river as a short route to the main "trail" running by that town, for freighters from the northern parts of Northeast Missouri.
This was doubtless the crossing used by Capt. William Becknell, with "pack horses" in one of his Indian trading trips, in 1821, the year before the actual "first expedition" over the Santa Fe trail, from Old Franklin started, that being given by the most authentic records and historians as 1822, such as Western Annals, Wetmore's Gazetteer, Campbell's Gazetteer and Johnson's Encyclopedia on the authority of Ex-governor Donaciano Vigil, of New Mexico, who said, "In 1822 the first train of merchandise from the United States was brought into Fernandez de Taos by the five Robidoux brothers."
From a point on the Boon's Lick road, "the old trails route" about eight miles east of New Franklin, the Central Cross-State Highway continues on by way of Fayette to Glasgow, where it crosses the Missouri River into Saline County and on thence to Kansas City.
At New Franklin another road, known as the "Old State Road," goes north to Payette and thence on across the county in a northerly direction on the divide between the Bonne Femme and Salt fork of Bonne Femme to Huntsville in Randolph County.
In 1852, during the "plank road" period of Missouri road history, Major Robert Walker, the engineer of the Old North Missouri railroad, located and built what is still known as the ''Plank Road" from Glasgow to Huntsville, in all likelihood to accommodate the great tobacco business of Glasgow in those days, serving northeast Missouri to the Iowa line. The road was first brought to an established grade, on which three and a half-inch thick white oak planks were laid.
It attracted a great deal of travel, but like all other plank or ''corduroy roads" proved a distinct failure; the planks absorbing the moisture of the earth, on which crude foundation they were laid, soon assumed the most fantastic shapes from the twisting and warping of the various planks in divers directions, curves and cups. This road was built by Irish laborers, brought there for the purpose, but also proved a financial failure.
The old "St. Louis stage line road" also passed through this county, leaving it at Glasgow and extending northwest to the Platte Purchase. It was one of the various Santa Fe trails used by the "forty-niners" seeking the gold fields of California from and after the year 1849.
Knox County, keeping up with the progress of the times in the interests of good roads, even as early as 1903 had a well-established system of earth roads, successfully and systematically maintained by dragging.
As in other counties, the roads of Knox radiate from Edina, its county seat, reaching in the northeast, Mill Port, Colony and Forest Springs; in the northwest. Baring, Greensburg and Hazel Springs; in the southeast. Hedge City, Plevna and Newark, and in the southwest. Locust Hill, Novelty and on into Macon County.
Lewis County has made a signal success in maintaining her earth roads by dragging, which is given much attention. It also has ten miles of pike roads out of Canton, its principal Mississippi River port, making easy access to such places as Monticello and other important or railroad points in the different parts of the county.
Lincoln County is one of the most progressive good roads counties, and as early as 1903 had twenty-three miles of turnpike roads and today it has nearly eighty miles of rock roads and "toll roads," either built or being built.
This system of roads embraces:
Elsberry to New Hope, five miles of first-class gravel toll roads
Silex, east, to Auburn, six miles of gravel toll road
Silex, west to Corso, eleven miles of gravel toll road
Silex, westwardly, to Olney, eleven miles of gravel toll road
Milford, south four and a half miles of free gravel road
Troy, north, to Hines, five miles of gravel toll road
Troy to Moscow, five miles of free gravel road
Hines to Pike county line, fourteen miles of gravel toll road
Auburn to New Hope, six miles of gravel road and from Elsberry to Smith Mill in Pike County, eight miles of gravel road.
Many other good graded roads radiate in each direction from Troy, but this enumeration shows the splendid road spirit and condition of the county.
Linn County is cut across its southern portion by the old Hannibal and St. Joseph Highway, elsewhere referred to. It enters the county near Bucklin, at the intersection of the Santa Fe railroad and the H. & St. J. railroad and passes almost due west through St. Catharine, Brookfield, Laclede on the B. & K. C. Railroad, Meadville and on through Chillicothe.
The other principal roads of the county radiate from and around Linneus. The county takes such care of its roads that it has two hundred or more steel bridges to accommodate the travel across its numerous streams. Its earth roads are constantly dragged, showing its up-to-date progress.
Macon County is crossed east and west a little south of its middle axis by the old Hannibal and St. Joseph Highway, elsewhere detailed. The cross-state road enters the county a few miles east of Anabel and passes through Macon City, Bevier, Callao and New Cambria, leaving the county a few miles east of Bucklin, in Linn County. This gives the county a good nucleus for road inspiration and road development which its people have been ready to take advantage of by building feeders to this well-traveled old road to other parts of the county. The county employs a county highway engineer and is well abreast of the times on road matters.
Marion County, while the starting point of the old Hannibal and St. Joseph Highway is within her limits, enjoys its benefits over only a few miles of her territory, the old road leaving the county only a few miles southwest of Hannibal, where it enters Balls County.
As early as 1903 Marion County reported over one hundred miles of gravel roads and has been a most progressive county in that respect, extending her improved roads rapidly and in all directions.
What is known as the "Indian road," from a supposition that the Indians had built this trail, is one of the oldest pack-horse trails in the state, having been cut out and located by a Frenchman, Mathurin Bouvet, in about 1795. He had a concession that year to a tract of land on which was a lick, which he called Le Bastion, to reach which he made this trail. A quarter of a century later the old ''trail" was found and used by the settlers, who thought it an Indian path. It was afterwards known as the Bay Mill road, being used to reach a grist mill, a little north of Clear creek, in 1823.
The first road in the county, north of Salt River, was the earth road from New London, Ralls County, to Hannibal, located shortly after 1818, when the sectionalizing surveys were made by the government engineers. This also followed an old Indian trail and has been much improved in the gradients in late years.
In 1836 the Palmyra and Marion City Turnpike Company was incorporated by the legislature, amendments being made to the charter by each session of that body until 1844-45, and the road having a similar experience to that of Missouri avenue, in Howard County.
This county is today alive on the road question and pushes road matters.
Monroe County has the old Hannibal and St. Joseph Highway for only a few miles across its northeast corner, entering the county at Monroe City and leaving it at Hunnewell, Shelby County. With this exception, Monroe has no other old trail or cross-state highway within her borders and is therefore dependent on her own initiative and energies for such progress as they have made in road development and improvement.
Montgomery County is one of the counties through which the Boon's Lick road passes, entering it near Jonesburg, thence through High Hill, New Florence, Danville and Mineola Springs, a few miles beyond which it enters Callaway County.
At New Florence the Northern Cross State Highway is detoured from the Boon's Lick road, running northwestwardly through Montgomery City and "Wellsville, thence on into Audrain County, Middletown is another road center in this county, being connected on the southwest with the Northern Cross State Highway at Wellsville and to the southeast with the gravel roads of Lincoln County at Olney, This gives the county most promising good roads prospects.
Pike County has been such a progressive good roads county that her people have lived beyond their generation, having a system of "Turnpikes" inaugurated and built nearly fifty years ago. They established a fixed toll-rate of one cent per mile per single team and one and a half cents per mile per double team, the elaborate and well-planned system connecting all important towns.
This county also had its expensive "plank road" experience. The original road from Louisiana, its principal river front town, to Bowling Green, its county seat, was a plank road, eleven miles long. But, to quote a good authority, "when the ends of the hoards commenced to curl up, they put gravel on the ends. Then when the boards rotted out, they were taken up and it became a gravel road."
As a companion to the plank road, the same authority refers to a road in the edge of Lincoln county, connecting with the Pike county roads, located and laid out by a competent civil engineer by the name of Little, over fifty years ago, from Prairieville in the edge of Pike to Eolia in Lincoln county, "It was laid out like a railroad dump high and dry and it was not too wide. It was well drained and the top was built of rock. This road today, without any care since that time, is a very good road, and with but little work can be brought back to its original condition. This shows the great advantage of building a road right to begin with."
The road from Louisiana to Frankford was built of gravel between forty and fifty years ago. The creeks in this county are especially well bridged over their roadways, only four now being needed to complete the county's bridge problem and they are contracted for and will be completed by the end of 1913. Concrete floors, another feature of permanency, are being put in as fast as the plank floors wear out.
Putnam County reported about two thousand miles of dirt roads, improved and being improved, and her roadmen are alive to the road issue, even though no old trail or cross state highway reaches them, the country being hilly, making road building expensive. The neighborhood roads radiate around Unionville, its principal town, and are kept in as good condition as circumstances permit.
Ralls County has along its northern border the old Hannibal and St. Joseph Highway, which enters it a few miles after leaving Hannibal, and passes through Rensselaer, Huntington and Hazard, beyond which it runs into Monroe County at Monroe City. Ralls also has an old rock road running from New London toward Hannibal, that was built as a toll road nearly fifty years ago, but the toll was taken off and the road is now a free road, but naturally not kept in as good condition.
Randolph County is well served by the Northern Cross State Highway which enters at its extreme southeast corner and goes entirely across the county in a northwesterly direction, passing through Clark, Renick, Moberly, Huntsville, Randolph Springs and Clifton Hill, and on across Chariton county. Another important old road runs north and south through it. It is what was known as the "Plank Road" from Glasgow to Huntsville, which continues on by way of Moberly across the county into Macon County, and from the same point on to the south as far as Old Franklin, which in 1823 was the nearest store or trading point for these people, a distance of over fifty miles, until later they traded at Fayette.
St. Charles County is the starting point of the Boon's Lick road, which passes through Cottleville, Dardenne, Wentzville and Foristell, into Warren County.
It is also the initial point of the Salt River road, northwestwardly, which, following the direction of the Mississippi river, passes through St. Peters, Josephville, Enon and Flintville into Lincoln County.
This county has also about two hundred miles of pike roads, besides nearly seven hundred miles of good dirt roads.
Schuyler County, like Putnam and other northern border counties, has no old trails nor cross-state highways, although the people are well provided with an interlacing network of earth roads and have imbibed the good roads spirit of road-progress.
Scotland County is another northern border county that is not in the line of either historic old trails nor cross-state highways, of greater commercial import, but must depend upon the road spirit of its people for such development and improvement as they get.
Shelby County is cut across its southern part by the old Hannibal and St. Joseph Highway, which enters it at Hunnewell, running due west through Lakenan and northwardly to Shelbina; from there it runs northwestwardly through Lentner and Clarence into Macon County.
While Shelby is a network of the ordinary earth roads it has no further claims for the antiquity of its roadways.
Sullivan County has neither an old historic trail nor a cross-state highway, but is alive to the interests of its commercial purposes for roads and good roads. The county is well cared for with neighborhood roads, all leading to or from the direction of Milan, its county center, and county seat, as well; so there, it can be said, as it is said of Rome, all roads lead to Milan.
Warren County is cut entirely across its northern portion by the old Boon's Lick road. The "Old Trails" route enters it near Foristell, St. Charles County, and runs through Wright City, Pitts and Warrenton on out of the county near Jonesburg, Montgomery County. This county has shown its road energy by forming special road districts along this road, which takes in all three of these last named towns.
© Missouri American History and Genealogy Project
Created August 16, 2017 by Judy White
Source: History of Northeast Missouri, edited by Walter Williams, Volume I, Lewis Publishing Company, 1913