Meritorious and Other Missouri Writers

Other Meritorious Writers
"Wayside Musings" is a volume of very meritorious verse by the Rev. Charles Newton Wood, the gentleman who compiled and published the poems of Mr. Scurlock. At the time of the publication of "Wayside Musings" Mr. Wood was pastor of the Methodist church at La Plata.
Robertus Love, now of New York, resided in Pike County, Missouri, "during seven years of his formative period," as he expresses it, and there gathered the inspiration for a cheering volume he calls "Poems All the Way from Pike." "In Extenuation," Mr. Love says: "Being a 'Piker' himself, the author of 'Poems All the Way From Pike' feels that he possesses license both poetic and proprietary to draw upon the celebrated ballad (Joe Bowers) for the title of his book." Among the extensive list of poems in Mr. Love's work are these: "A Pike County Christmas Tree," "Joe Bowers' Brother Ike," "Back in Old Mizzoury," "The Old Blue Spelling Book," "The Boy Who Has No Santa Claus" and "Eugene Field." Before going to New York, Mr. Love was engaged in newspaper work in St. Louis. His most successful feat while in that employment was being the first staff correspondent to cover the Galveston flood.
"Robert Devoy," by Frank H. Sosey, of Palmyra, is a fascinating story having for its climax the military execution of ten men at that town, October 18, 1862. Besides the story, there is much historical information setting at rest some of the controversies that grew out of one of the saddest events of wartime.
The late John R. Musick, of Kirksville, was an industrious writer, He has to his record twenty-three books in the State Historical Society of Missouri, of which sixteen are histories. Among his best read novels are ''Calamity Row" and ''Brother against Brother." Mr. Musick was one of the many heroes who labored assiduously to save life and relieve suffering on the occasion of the disastrous cyclone at Kirksville, April 27, 1899. He died not long after that event.
Other Adair County writers and their books follow:
E. M. Violette, "A History of the First District Normal School," "A History of Adair County," "Early Settlements in Missouri."

Mrs. Belle Travers MeCahan, "The Precious Child," "Stories by American Authors."

Mrs. Martha Prewitt Doneghy, "The Feast of Skeletons," poetry, Mrs. Doneghy has also contributed to the magazines.

Dr. Andrew T. Still, founder of Osteopathy, "Autobiography,"

Mrs. Ora Bell Goben, contributor to magazines.

The Rev. J. S. Boyd, "The Story of Jonah, The Truant Prophet."

Dr. Horace H. H. St. John of Edina, Knox County, is a song writer whose work has been printed and pronounced of a high order by critics,

George W. Hamilton, of Fulton, Callaway County, has written several good books. The best known of them are "The Lantern Man" and "Wilson's Way."

Elizabeth Fielder, of Pike County, is the author of "The White Canoe," a book which has attracted considerable attention among literary people. She wrote under the pseudonym of "Elizabeth Monckton," and is now a contributor to the magazines.
"Love vs. Law" is the title of a novel dealing with the question of women's suffrage. It is by Mary Anderson Matthews, of Macon, and has run through two editions. Before her marriage to Otho F. Matthews, the author was city attorney of Palmyra, a position which she capably filled. Mrs. Matthews does considerable sketch writing, and is "associate counsel" for her husband, who is a well-known lawyer.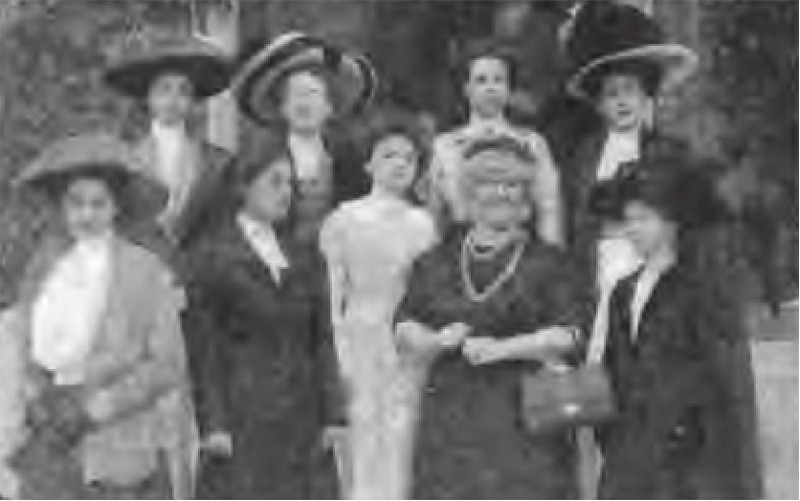 Women Students in Journalism with Winifred Black from left to right,
Top row, Miss Cannie R. Quinn, Miss Etna McCormick, Miss Mary G. Paxton,
Miss Florence LaTurno.
Bottom row, Miss Heloise B, Kennedy, Miss Josephine Sutton, Miss Bess Friedman,
Mrs. C. A. Bonfils (Winifred Black), Miss Blanche Whittaker.
William Turk, of Macon, an invalid nearly all his life, wrote the "Completion of Coleridge's Christabel." An eminent critic of poetry, residing at Boston, said this of Mr. Turk's bold attempt:
"Christabel's completion at the hands of this young western author has lost none of the dignity and grace that Coleridge himself might have imparted to it."
Mr, Turk was just twenty when he finished the work which brought that commendation from Boston. He wrote a great many plays, several of them tragedies, which he submitted to Mansfield and other high priests of the drama. All spoke well of the young man's work, and some of the plays were being prepared for presentation, but on June 14, 1903, the young author died, right at the threshold, seemingly, of his fame. He was just twenty-seven.
The late Dr. Willis P. King, was at one time resident of Macon County, Missouri, and while traveling on horseback over the muddy country roads, performing the arduous duties of a rural practitioner, acquired the material for an interesting volume which he published later, and called ''Stories of a Country Doctor." Dr. King produced another work, ''Perjury for Pay,'' which attracted a great deal of attention.
''Forty-five Years in the Ministry'' is a story of the circuit riding days of Elder J. W. Cook, a Baptist minister of Elmer, Macon County.
''The History of the First and Second Missouri Confederate Brigades," and ''From Wakarusa to Appomatox" is the title of a rather large volume by Colonel R. S. Bevier, who lived at Bloomington, the old county seat of Macon, up to the war between the states. The work is largely personal reminiscences, and yet there is much valuable information between the covers of Colonel Bevier's highly entertaining book. Colonel Bevier took from Macon County a Confederate battalion, which joined General Sterling Price, at Nevada, Missouri.
''The Phoebe Cary of the West" is the graceful title that was bestowed upon Mrs. G. W. Hunt, a poetical waiter, by Colonel W. F. Switzler. Mrs. Hunt lived in Randolph County. She was a regular contributor to Godey's Lady's Book and the old St. Louis Republican, and occasionally to the Columbia Statesman. In 1876 Mrs. Hunt published a small volume containing some of her best work. Among her most popular poems were: "The Skylark," ''The Evening Hour," ''Over and Over Again," "A Temperance Battle Cry," "My Happy School Days." Governor George Hunt, of Arizona, is a son of Mrs. Hunt, who died at Huntsville, November 3, 1883.
John W. trillion, president of Hardin College, Mexico, has produced a valuable work entitled "State Aid to Railways in Missouri," which appeared as one of the studies by the Department of Political Economy in the University of Chicago in 1897, and which has been favorably reviewed by leading journals. The Chicago Post devoted a column of interesting discussion to Mr. Million's book and its purpose. Among other things the Post said: "We are glad to find, in the economic studies of the University of Chicago, a volume giving useful information regarding state activity in connection with railroads. The book is entitled 'State Aid to Railways in Missouri,' but it is not limited to the experience of Missouri alone."
"With Porter in North ''Missouri" is an interesting narrative of the war of the sixties, by Joseph A. Mudd, a native of Lincoln County, Missouri, but now residing at Hyattsville, Maryland. The book describes the battle of Kirksville, the retreat of Porter and his stand in Macon County, where he stopped the Federals, and made a successful evacuation of the district, with his recruits. The work is of considerable historical importance, and is well-written by a brave soldier and able historian. The book was published in 1909. Following the war, Mr. Mudd was for some time editor of the Troy, Missouri, Dispatch.
Montgomery County has produced some interesting literary people. Their names and works follow: R. S. Duncan, "History of the Baptists of Missouri," and a personal memoir.
Mrs. C. K. Reifsnider is an extensive and capable contributor to the magazines.
Robert Rose and Wm. S. Bryon wrote a humorous and entertaining book dealing with "Pioneer Days in North Missouri."
Judge Robert W. Jones, "Money Is Power."
Francis Skinner, a 49er, described his experience in a book entitled: ''The Route to California, and the Medical Treatment that was administered to the Travelers Thereon."
Elder James Bradley, "The Confederate Mail Carrier."
Mildred S. McFaden developed good literary ability while attending Central Wesleyan College at Warrenton; afterwards taught music and then went to St. Louis where she became a member of the Chaperone editorial staff, and later one of the editors of the Sterling Magazine, which was said to be the handsomest and most attractively edited publication ever produced in the metropolis.
Here is a verse from Mrs. McFaden's ''Song of July'' published in the Sterling:
My trio of beautiful sisters
Have filled the whole world with their song,
Tho ' scarcely I hope to be welcome,
I promise to tarry not long.
I sing not of beauty and loving
The heart of a soldier have I;
The deaf 'ning boom of a cannon
Is sweeter to me than a sigh!
''A Little Book of Missouri Verse," comprising ''Choice Selections from Missouri Verse-Writers," collected and edited by J. S. Snoddy, of Woodson Institute, Richmond, Missouri, includes work by the following who now live, or have lived in Northeast Missouri:
Nathaniel M. Baskett, editor of the Moberly Monitor
M. W. Prewitt Doneghy
Eugene Field
Willis P. King
Mildred S. McFaden
Thomas Berry Smith
Adelaide E. Vroom
Mrs. Anna M. Weems
Mrs. Elizabeth Ustick McKinney
Horace A. Hutchison
Mrs. Lillian Kelly, wife of George B. Kelly, founder of the Moberly Monitor
Grace Hewitt Sharp.
In 1884 N. M. Baskett published a volume of verse entitled, ''Visions of Fancy." He edited the St. Louis Medical Almanac in 1889-90; was state senator from the Ninth Missouri district, 1892-1896. As editor of the Moberly Monitor he has given that paper a distinction for his graceful writing and clearness of thought.
Thomas Berry Smith published in 1880 a chart, ''Circle of the Material Sciences," and in 1890 a text book entitled: ''Study in Nature and Language Lessons." His verses have appeared from time to time in state and national publications. Since 1886 he has been professor of chemistry and physics at Central College, Fayette.
List of Northeast Missouri Authors
The following list of Northeast Missouri authors and their work is taken from ''A Catalogue of Publications by Missouri Authors"; compiled by F. A. Sampson, secretary State Historical Society of Missouri:
J. W. Barrett, ''History and Transactions of the Editors' and Publishers' Association of Missouri." Canton, 1876.
James Newton Baskett, ''As the Light Led." New York, 1900; ''At You Airs House, a Missouri Nature Story," New York, 1898; ''Story of the Birds," New York, 1897; "Story of the Fishes," New York, 1899; "Sweetbrier and Thistledown," Boston and Chicago, 1902.
Mrs. Julia I. Bennett, "Beauty's Secrets," "Ladies' Toilet Companion," Hannibal, 1880.
Chess Birch, "Reminiscences of the Musical Evangelist," Hannibal, 1891.
J. B. Briney, "Form of Baptism," St. Louis, 1892; "The Relation of Baptism to the Remission of Alien Sins," Moberly, Mo., 1902.
Carl Crow, "The Columbia Herald Year-Book," Columbia, 1904.
George W, Dameron, ''Early Recollections and Biographical Sketches of Prominent Citizens of Pioneer Days," Huntsville, Missouri, 1898.
Henry Clay Dean, "Crimes of the Civil War," and "Curse of the Funding System," Baltimore. 1868. (See sketch of life.)
The Rev. R. S. Duncan, "History of Sunday-Schools, " Memphis, Missouri, 1876; "History of the Baptists in Missouri," St. Louis, 1882.
W. W. Elwang, papers: "An Address to the Students of the State University," September 14, 1902; "The Negroes of Columbia, Missouri," a study of the race problem, Columbia, 1904.
Forrest G. Ferris, "Moberly Libraries and Literary Societies," Moberly, 1904.
Elizabeth Davis Fielder (Elizabeth Monckton), "The White Canoe and Other Legends of the Ojibways," New York, 1904,
C. O. Godfrey, "Treatise on the Bituminous Coats of the West," St. Louis, 1872. (Mr, Godfrey was one of the early coal operators of Macon County, being associated with Thomas E. Wardell - Ed.)
John D. Hacker, "The Church of Christ, Viewed in the Midst of Rival Elements," Columbia, 1897.
Wilfred R. Hollister and Harry Norman, "Five Famous Missourians, Mark Twain, Richard P. Bland, Champ Clark, James M. Greenwood and Joseph O. Shelby," Kansas City, 1900.
Richard H. Jesse and Edward A. Allen, "Missouri Literature," Columbia, 1901.
Maximillian G. Kern, "Rural Taste in Western Town and Country Districts." Columbia, 1884.
W. H. Martin, "Reminiscences of My Home," Moberly, 1902.
Alex. Mudd, "Reasons Why I Am a Christian and Not a Romanist," Montgomery City, 1902.
John R. Musick, "Banker of Bedford," and many other works.
Dowler B. Newberry, Masonic papers, "Science of Symbolism," Hannibal, 1896, "Ancient and Modern Masonry," Hannibal; "Look to the East!" Hannibal, 1895; "The Mystic Art Divine," Hannibal, 1894.
Frederick B. Newberry, "The Voice of Christianity," Hannibal.
Philemon Pement, ''Probation after Death,'' Moberly, Missouri, 1897.
S. Y. Pitts, 'Mt. Pleasant Association; Historic, Biographic," Salisbury, Missouri, 1895.
J. J. Porter, ''Restricted Communion,'' Columbia, 1900.
The Rev. J. H. Pritchett and Elder John S. Sweeney. ''Religious Discussion at Clarksville, Missouri," St. Louis, 1869.
Perry S. Rader, ''Civil Government of the State of Missouri," Columbia, 1897; ''School History of the State of Missouri,"
W. K. Roberts, ''Divinity and Man; a Doctrinal Hypothesis upon the Structural Order of the Universe, the Career and Destiny of the Soul and the Moral Obligations of Life," Mexico, Mo., 1895.
Will A. Rothwell, "Moberly Art Souvenir," Moberly, Mo., 1896.
F. A. Sampson, Secretary of State Historical Society of Missouri, papers: ''Natural History of Pettis County, Missouri," 1882; ''Notes on the Distribution of Shells. Article III," Kansas City, 1883; ''Bulletin of Sedalia Natural History Society," Sedalia, 1885; "The Shells of Pettis County, Missouri," Sedalia, 1885; "Pettis County and Sedalia, Missouri," Sedalia, 1886; "Notes on the Subcarboniferous Series at Sedalia, Missouri," New York, 1888; "History and Publications of the Missouri Horticultural Society," Jefferson City, 1891; "Mollusca of Arkansas," Little Rock, Ark., 1893; "A Bibliography of the Geology of Missouri," Jefferson City, 1890; "A Bibliography of Missouri Authors," Sedalia, 1901; "A Bibliography of the Official Publications of Missouri," New York, 1904.
Dr. John Sappington, ''Theory and Treatment of Fevers," Arrow Rock, Missouri, 1844.
The Rev. Louis F. Schlathoelter, "Hypnotism Explained," Moberly, Missouri, 1898.
D. W. Shackleford, "Missouri Criminal Code," indexed and annotated, Columbia, 1895.
The Rev. George W. Sharp, "Faithful God; as Shown in Sketch of Life of the Rev. James E. Sharp," 1896. Author resides in Kirksville.
Dr. A. T. Still, "Autobiography, with a History of the Discovery and Development of the Science of Osteopathy," Kirksville, Missouri, 1897; "Philosophy of Osteopathy," Kirksville, Missouri, 1899.
Wm. F. Switzler, "Report of the Internal Commerce of the United States," Washington, 1888; "Illustrated History of Missouri," St. Louis, 1879. (See sketch.)
The Rev. H. E. Truex, "Baptists in Missouri; an Account of the Organization of the Denomination in the State," Columbia, 1904.
The Rev. Dr. Pope Yeaman, "History of the Missouri Baptist Association," Columbia, 1899.
G. M. Dewey, "Railway Spine," Keytesville.
Eugene Field and Roswell M. Field, "Echoes from the Sabine Farm," New York, 1895. (See sketch of Eugene Field and his works.)
Mary E. Reiter, "Pure Gold," Moberly, Missouri, 1896.
W. H. Porter, "Seven Original Poems by an Old Blind Man," Hannibal, 1887.
T. Berry Smith, (Poems) "Two Weddings," Fayette, Missouri. 1902; "The Pigeon, A Study in American Literature," Fayette, Missouri, 1903.
George E. Trescott, "Chirps; Odd Rhymes at Odd Times," Troy, Missouri.
© Missouri American History and Genealogy Project
Created August 16, 2017 by Judy White
Source: History of Northeast Missouri, edited by Walter Williams, Volume I, Lewis Publishing Company, 1913