Daniel Boone in St. Charles County Missouri

A history of St. Charles County would be incomplete without a sketch of Daniel Boone, the most wonderful character of his time. There is some doubt as to the place of his birth, and from two men we have the statement that he first saw the light in the state of Virginia, and that while a lad, his father moved across the state line into North Carolina, One of these men was William Logan, whose wife was a relative of Mrs. Boone, and who came to Missouri in 1816 from Boonesborough, Kentucky. He was a personal friend of Boone. He died in 1852 in his seventy-fifth year. The other was the late Morgan Bryan, a nephew of Mrs. Boone, who died about the same time that Mr. Logan did, and at about the same age. They lived near Marthasville, in Warren County, Missouri. In 1849, these men assisted in conferring upon the writer the degrees of Freemasonry, in Douglas Lodge No. 54, A. F. & A. M. According to the testimony of these two old men, Daniel Boone was born in the colony of Virginia, July 14, 1732, the same year in which George Washington was born.

Boone Cabin in St. Charles
While he was a lad, his father moved across the Dan River into the province of North Carolina, where he received some little education. While a schoolboy he met and learned to love Rebecca Bryan, who afterwards became his wife. He finished his literary course by thrashing the teacher. Rebecca Bryan's parents were Irish. And Boone married her in Buncombe County. North Carolina, about the year 1756 or 1757; so says Mr. John Jones, his great-grandson, who is a friend and contemporary of the writer. There were born to Colonel Boone, nine children, viz: James, Israel, Susanna, Jemima, Daniel M., Lavinia, Rebecca, Jesse and Nathan.
James, in his sixteenth year, was killed by the Indians.
Israel was killed at the Battle of Blue Lick, Kentucky, August 1782, aged twenty-four years.
Susanna married William Hays and their descendants still live in the county. She died in her fortieth year.
Jemima married Flanders Callaway, and lived near where Marthasville now stands. Her daughter, Rebecca, married Doctor Jones, who came from Kentucky in 1814, settling near Marthasville. He was assassinated in his yard in 1842, supposedly by a man called "Billy Whiskers," who was tried on strong circumstantial evidence; but he was so ably defended by Judge Edward Bates that the jury acquitted him. Mrs. Callaway died in 1829.
While the Boone family lived in the fort at Boonesborough, Kentucky, she and two other young girls, Betty and Frances Callaway, daughters of Col. Richard Callaway, were captured by the Indians. These venturesome girls had bravely crossed in a canoe, to the opposite bank of the Kentucky River in search of wild flowers. The Indians were swiftly pursued by Boone, Callaway, his son Flanders (whom she afterwards married), and five other men. They were overtaken the next day and dispersed or killed, and the girls were restored to their friends, having suffered no ill effects at the hands of the savages. The Indians generally treated humanely their female captives.
Daniel M. married a Miss Lewis of Missouri. He settled in Darst Bottom in 1795, and moved to what is now Montgomery County in 1816. He held many important offices under the government and during the Indian wars was made colonel of the state militia. He surveyed and laid out the state road from St. Charles through Howard County, now known as the Boon's Lick road. It was the great thoroughfare for the mighty tide of immigration then setting in from the East. He also made the surveys for the government, of St. Charles, Warren, Lincoln, and Montgomery counties. He was a man of irreproachable character and sterling integrity, resembling very much his father in personal appearance and deportment. He died in 1839, in his seventy-second year.
Lavinia married Joseph Scholl and died in Kentucky.
The youngest daughter married Philip Goe and she also died in Kentucky.
Jesse married Cloe Van Bibber. He settled in Missouri in 1819. He had a good education and was an able and influential man. He died in St. Louis in 1821 while serving his state as an honored member of the first legislature.
Nathan Boone, the youngest son, came to the county in 1800. He married Olive Van Bibber, sister of Jesse Boone's wife. He was a surveyor and did much government work. At the commencement of the War of 1812, he enlisted a company of rangers, and was commissioned captain by President Monroe. He was patriotic and, like his father, showed military skill, and rendered the country good service in those piping times. In 1832, he was commissioned captain in the United States army by General Jackson, then president; and during President Polk's administration, he was promoted to major of dragoons. In 1850, he was again promoted to lieutenant-colonel, though he was seventy-two years of age. He received his commission from President Fillmore. He died peacefully on October 16, 1856, in the seventy-sixth year of his age. Like his other brothers, he served his country well.
Col. Daniel Boone came to St. Charles County in 1797 and settled in Darst's Bottom. He had lost his valuable lands in Kentucky, by neglecting to have his deeds recorded and through the chicanery of land sharks. He had, at the solicitation of his son, Daniel M., and because of a flattering offer from Delassus, lieutenant-governor of the Louisianas, undertaken to form a settlement in the territory. Daniel had preceded him to the territory, and with others had sent Boone wonderful accounts of its fertility and the great abundance of game, two attractions which he could not resist, and he determined to again face the dangers and hardships of subduing the wild Indian and opening the wilderness to the habitation of his countrymen. In June, 1800, the governor of Louisiana appointed him commandant of Syndic, judge of Femme Osage district, twenty-five miles west from St. Charles. He retained his command with perfect satisfaction to all parties, rendering righteous judgments in all cases which came before him, until the county passed into the hands of the United States in 1804. Colonel Boone received from the Spanish governor, Delassus, a grant of one thousand arpents of land in the Femme Osage district. Subsequently another grant of ten thousand arpents was made him by the same government on a contract which he filled so far as his part of it went; i. e., to introduce into the territory one hundred families. But owing to his neglect in having the contract signed by the governor-general at New Orleans, it proved void, and again the old and too honest pioneer was robbed of a princely domain. His beloved wife, his life-long helpmate and sharer of all his dangers, tribulations and adventures in subduing the wilderness, died on the 18th of March, 1813. They had shared their sorrows and joys, labors and dangers together, for more than fifty years. He laid her to rest on a beautiful knoll near Marthasville, overlooking the rushing waters of the Missouri River, on the farm of his favorite son-in-law, Flanders Callaway, where very soon he followed her.

Where Daniel Boone Died
Daniel Boone was devoted to his wife and soon after her death he marked off his own resting place by her side and had his coffin made. The last two years of his eventful life he spent with his daughter, Mrs. Flanders Callaway, and her husband, who lived on Tuque creek near the place of Mrs. Boone's burial. Around them lived many of his kin and people who had followed him from Kentucky. His health was cared for in his last days by his grandson-in-law, Doctor Jones, the second regular physician who settled in the county. Doctor Millington being the &at American doctor. He died of acute indigestion on September 26, 1820, in his eighty-eighth year. In 1835 Capt. John Wyatt erected two stone slabs over the two graves. These had been prepared some time before by a stone-cutter. He was directed to the graves by a great niece of Boone, a daughter of Jonathan Bryan. Selecting the graves from among many other unmarked ones was guesswork, and Kentucky may now be honoring the remains of some other worthy couple. Dr. Sylvanus Griswold, son of Harry Griswold, of Marthasville, always thought so. The funeral was preached by the Rev. James Craig, a son-in-law of Maj. Nathan Boone. The constitutional convention was in session in St. Louis and appropriate resolutions were presented by Ben Emmons and adopted by the convention.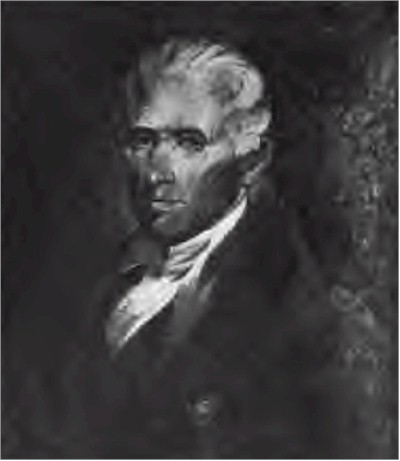 Daniel Boone
The citizens of Kentucky in 1845, in a convention held at Frankfort, resolved that the proper place for the bodies of the old pioneers was amid the scenes of his earliest and greatest achievements, the Bloody Ground of Kentucky. The consent of his living relatives having been obtained, in the summer of 1845, a deputation of citizens consisting of John J. Crittenden, Wm. Boone and a Mr. Swaggart came to the state on the steamer "Daniel Boone," and conveyed the remains back to Kentucky, where they were reinterred at a beautiful place near Frankfort.
© Missouri American History and Genealogy Project
Created August 16, 2017 by Judy White
Source: History of Northeast Missouri, edited by Walter Williams, Volume I, Lewis Publishing Company, 1913